When we met Cobra Waste they were working with another agency. Our team at pointdot audited all the marketing. Here are some of our findings:
Website hadn't been updated since the business started
Ad creatives were updated seldom (once every 6-9 months)
Ad budget was being wasted in the USA (approximately $3k/month)
Google search ads were not being optimised with very infrequent in-platform optimisations occurring.
With the overall investment, the return on ad spend was 1:1 which meant once costs were removed, the business was losing money.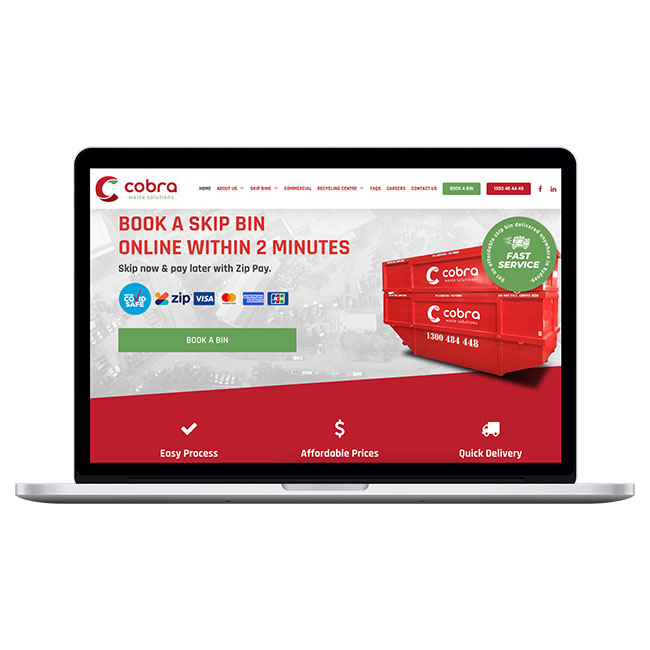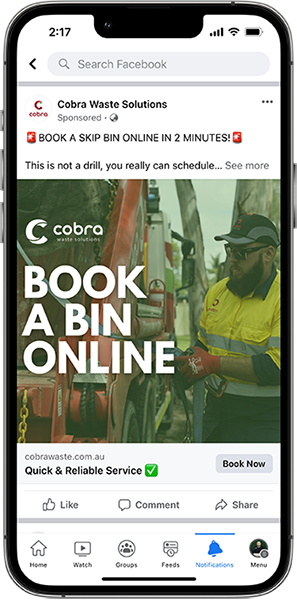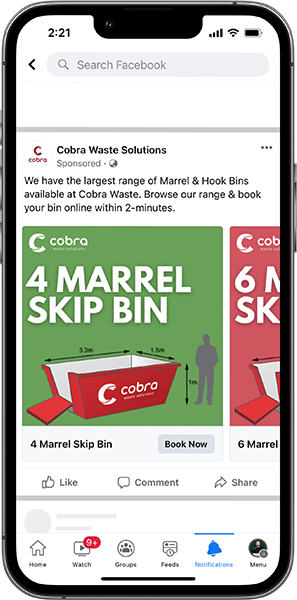 website:
To move the needle fast our team proposed to redevelop the Cobra Waste website and add e-commerce functionality so that consumers could 'Book A Bin Online' in less than 2 minutes. This opened a whole new market of opportunity.
communication:
From here, we decided to overhaul the message and move away from price penetration marketing (discounting) and rather focus on the convenience of the newly built online platform.
implementation:
Utilising Facebook paid advertising, Google Ads and of course by optimising the newly built website (SEO), we were able to finally put Cobra Waste on the front foot.
A new website, a strategic communication strategy followed by detailed execution with paid advertising led to the following:
480,000 average monthly reach across Social & Google platforms
350 average inbound & tracked phone calls from our ads monthly
75 average monthly Facebook Messenger initiations
Average of 50 monthly online bookings from 0.
Revenue increase from $20k to $80k per month/average
4x Return on Ad Spend (ROAS) compared to previous agency results
book your free strategy session